The Canadian Waste & Recycling Expo is now open 10:00 AM – 4:00 PM both today and tomorrow. Make a visit to the Scotiabank Convention Centre in Niagara Falls Canada.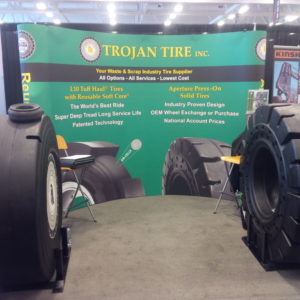 Waste Transfer Stations & Scrap Yards are tough on tires. Hard uneven surfaces, sharp debris, wet floor conditions causing the tire to spin, duty cycles and turning patterns are some factors that impact the life of a tire.
Come visit us at Booth # 2116 and learn how our Soft Core will enhance operator comfort and optimize productivity with planned maintenance. Think LONG TERM and get your lowest tire cost per hour with Trojan Soft Core!
For more information go to http://www.cwre.ca/