MILLS | SMELTERS | DOCKS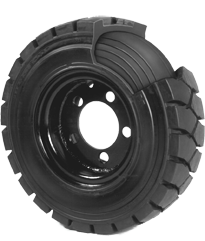 Patented Trojan Air-Cell® Rubber Tire Fill Technology
Tuffil® and Reusable Soft Core®
Carry heavy loads, move at fast speeds, and travel for great distances. Avoiding road hazards like pot holes, scrap metal, ruts and debris are almost impossible on a daily basis, so companies turn to Trojan Soft Cores and Trojan Tuffil to keep their machines moving and to increase tire life.
Producing Steel, and Aluminum are very capital intensive secondary industries that require specialized machines used to move the materials effectively throughout the plant.
The one foundation they rely upon to get their work done is the tires. With the huge costs associated with production today steel mills and aluminum smelters cannot afford downtime due to flat tires.
By using Trojan's patented Air-Cell technologies many of the world leaders in these categories have achieved improved productivity and lower overall tire costs.
Articulated pallet carriers
Coil haulers
Pot carriers
Heavy Duty Forklifts
The extreme temperatures of furnace rooms can transfer enormous amounts of heat to any tire – by using the Trojan Soft Core in these applications you can be assured your tires will be at the optimum performance levels and have the added benefit of safety to eliminate any explosive force potential.
Pilling and heaping extra loads on to over challenged industrial tires are just the opportunities Trojan thrives on to help customers improve their productivity and lower their costs. Whether it's a 300×15 or a 2400R35 Trojan Soft Cores are proven to get your jobs done.
Stevedoring the world's freight from vessel to rail or truck is a time sensitive job – downtime due to flat tires is unacceptable and cannot be tolerated.
With computer controlled Straddle Carriers & Container Handler forklifts with giant OTR tires lifting in excess of 40,000 pounds in a single move – having air in the tires is just not a real option and can be a recipe for failure. Convert your fleet to the Trojan Soft Core or Tuffil system and watch your tire life increase and your costs go down simultaneously.
Working hard on the Docks shunt trucks and trailers can also benefit from the application of Trojan Air-Cell Technology to their wheel positions. Shock absorbing to machine and driver the Trojan Soft Cores can handle the higher speeds and longer runs seen on the massive acreages of the world's largest seaports. Unlike solid rubber tires that build up heat and separate, the Trojan Soft Cores provide cool running tires for maximum mileage and lowest cost per hour.
Reach out to Trojan now and we can help you achieve your goals in an ever competitive global commodity market place.